Unlike the fleeting treasures offered to us by this world, the love of God, in Jesus, brings to our hearts an unsurpassable grace of joy.
Pammy running to Daddy
This little girl was born with joy in her heart and a giggle on her lips. My sweet little niece, my name sake, was born in Montana, a long ways from Indiana but my mother and I were there as quickly as we could make airline reservations.
Pammy Jo bounced her way through childhood, talking a mile a minute. And today, she's still bounces with joy. Joy in her husband and three daughters. Joy in her Heavenly Father.
This week I read these four Facebook posts from Pam.
Tuesday: In case you've ever wondered, lakes of fish sauce all over the floor smells disgusting, even long after it has been cleaned up. Just saying.

Wednesday: The weirdest things are happening to me this week. I discovered all the juices and gravy from the meat in my crock pot all over the floor. When I lifted the dish from the base, the entire bottom of the pot remained in the base with my meat nicely piled in the center. Yeah, that's a problem.

Wednesday: Either my kitchen floor didn't get the memo that I
prefer to scrub it only on Friday or Saturday (read: Only once a week!) or it is enjoying its 15 minutes of Facebook fame. That's right, ladies and gentlemen, we can now add to the running total of abnormal things on the kitchen floor in the last 24 hours! To the 1 whole bottle of fish sauce and 6 cups or so of meat juices and gravy (due to the bottom literally falling out of the crock pot), I now can add blood (Carli cut her foot), and a whole bowl full of sugar (thanks to Livy diving in too quickly for a bite of PB cookie dough). Do you think I should be a slave to the floor or just ignore it so it doesn't control me?

Wednesday: For all you faithful friends following my mess-filled day, you should know about one last find of mine that was the icing on the cake. Just as we were getting ready to go to choir practice/kid's church tonight, Liv came out with what looked like paint on her arms and shirt. She said she was trying to make the stamp pad wet because it was dry. After I washed her up and sent her to the van, I went to brush my teeth and the bathroom told the story: a bowl full of ink and water (looked like Easter egg dye) on the counter, the counter and sink smeared with watery blue ink, and a blue five-fingered smear on the door jam. I need to go to Training Kids Properly 101 if anyone is offering such a thing.
I'm sure this was more humorous to Auntie than to Pam in the moment, but if you catch the joyous tone in her messages you know that she just lives with her heart full of an unsurpassed grace of joy.
Pam's joy overflows to others, too. For Mother's day she gifted her mother with Ann Voskamp's Joy in a Box. It was presented in a beautiful container. The printables are free -- and a special way to shelter someone you love.
This grace of joy is contagious -- choosing joy is catching.
This grace of joy is courageous -- choosing joy in the midst of life.
This grace of joy is from God -- He chose joy for us.
You have put joy in my heart
Psalm 4:7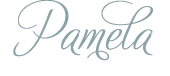 Linked to: