A daughter is the happy memories of the past, the joyful moments of the present, and the hope and promise of the future.
~Author Unknown
I have three daughters -- Emily still lives in my home, Melanie lives in her own home about five minutes from ours, and Sarah lives in our Heavenly Father's home in Heaven. They are all equally loved and precious to me.
I enjoyed each step of parenting my daughters. When they were babies, I loved that stage best. When they started walking, that was the age I loved best. Preschool, gradeschool and tween years -- all my favorite. And although many told me, "Just wait until they hit their teens," sorry, I love their teenage years, too.

Photo by Emily

As Melanie, and now Emily, emerged from teens, an exciting thing happened -- we became best friends. With Melanie we were looking towards graduation, celebrating an engagement and planning a wedding. Such good memories. Now again, we are looking towards graduation with Emily, planning on watching her leave home for the university and whatever God has for her in this next step of life. And again I'm thinking, this is the age I like best (except for the leaving home bit).
I've spent the best week with Melanie. I sent her off for naps often, but we had lots of time to sit and talk, cherish her new son and plan fun projects. My firstborn, the daughter we waited nine years for, is my dear friend.
Emily was in Cincinnati for volleyball tournament this weekend. I waited for her voice, enjoyed our volleying texting and waited for her to come home. I loved her, "We woooooooooooooooooooooon!" text and excited chatter when she came home at 3 in the morning and again when she surfaced after a short night's rest. She's the daughter I wished for after Sarah's death. Six years, one tubal pregnancy, and many tears. She is my dear friend.
My mother and Emily
It makes me understand my own mother's delight at visiting my home. We reminisce, shop, eat and have mother-daughter talks over white chocolate mochas. We craft, share our passion for shetering others and she listens to all my dreams. My mother is also my dear friend.
It must be that this is the relationship God intended mothers and daughters to have. Somehow in teaching your daughter to be a woman, to place her relationship with God above all others and to treasure friends and family, you grow into an inseparable friendship.
With Melanie this is taken a step further as I delight in her role of Mother. I giggle when she sends a child to their room to find a happy face, delight in the craft and play time she plans for her children, and find joy in browsing the stack of parenting and marriage books she's reading -- striving to do the best in the career she has chosen.
Like Deanna Beisser said, "A daughter is a miracle that never ceases to be miraculous...full of beauty and forever beautiful...loving and caring and truly amazing." And I'm so thankful for mine.
Celebrate Daughter Love with a Tussie Mussie
I started this Tussie Mussie last night and without thinking of the colors, they ended up the colors of Emily's room. It was hanging on her dresser drawer pull when she came home. Of course at three in the morning she wasn't looking around so she didn't find it until later today.
I found this pattern in the 2001 Better Homes and Garden's Celebrate the Season. It's so easy. You need a styrofoam cone, 2-inch-wide wire edged ribbon and corsage pins. Here are the easy steps:
Cover the cone with folds of ribbon, securing it with the pins at random intervals. Tie four bows and pin around top edge of cone.
Poke silk flowers in the top. You can also put a florist vial in the top and fill with fresh flowers. I wasn't happy with my silk flower look so I made 3 large pink ribbon roses and filled in with smaller white ones. I'm sorry I can't tell you how I did it -- just took some ribbon and twisted and it became a rose. If you know anything about the meaning of flowers you will know that pink roses celebrate friendship -- and so I celebrate -- I celebrate the friendship of my daughter.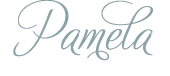 This post is linked to