Once in awhile, right in the middle of an ordinary life, love gives us a fairy tale. ~ Anonymous
Nestled among the trees in Pennsylvania, sits the IUP College Lodge. I'm sure it's never held as much joy as it did Saturday afternoon. We dressed it with pink and white, candles and white pitchers, pink roses and fresh baby's breath
.
A framed collage told the story: Steve with his wife, Lynn, and another of Steve and Lynn
with their children. Melodie with her husband, Ray, and another of Ray and Melodie with their children. In the center, a picture of Steve and Melodie--all tied together with the words, Our family believes Heaven is for real.
It's a beautiful story of sorrow, grace, and joy. This last chapter was written with my girls singing "In His Time;" Jordan walking his mother to the altar; Jordan (Melodie's minister son) and Luke (Steve's minister son), marrying them; Melodie's daughter, Pam, standing with her, and Steve's daughter, Lori, standing with him.
It was six granddaughters dressed in pink and white, carrying buckets of fresh flowers. It was the only grandson carrying a Bible. It was a sand ceremony blending the families with the Holy Spirit's foundation and covering. Melodie's and my minister brother offering the prayer of dedication. And one of my favorite moments -- the children and spouses singing, "Household of Faith."
It was joy! Many friends joined them for a reception. Even the guests who had walked with Steve and Melodie in their times of deep grief practiced the Biblical command to "rejoice with those who rejoice."
God is good. He's good in times of sorrow and good in times of joy. Saturday was blessed with God's presence, once again proving the promise, "In His presence is fullness of joy" (Psalm 16:11).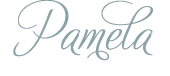 Linked to: